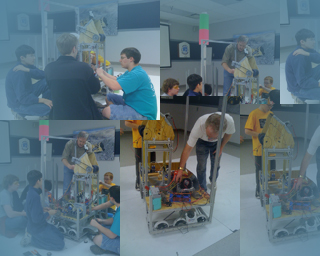 About
FIRST
FIRST, or For Inspiration and Recognition of Science and Technology, is an organization founded by inventor Dean Kamen in 1989 in order to develop ways to inspire students in engineering and technology fields.

The organization is the foundation for the FIRST Robotics Competition, FIRST LEGO League, Junior FIRST Lego League, and FIRST Tech Challenge competitions. FIRST seeks to promote a philosophy of teamwork and collaboration among engineers and encourages competing teams to remain friendly, helping each other out when necessary. The term frequently applied to this ethos is "gracious professionalism," a term coined by Woodie Flowers which supports respect towards one's competitors and integrity in one's actions. As Dean Kamen is so fond of saying, FIRST is not about building robots. At every level of competition FIRST is about getting people involved in Engineering in a fun and interesting way.

The first program developed through FIRST was the FIRST Robotics Competition (FRC), which is designed to inspire high school students to become engineers by giving them real world experience working with professional engineers to develop a robot.
Lunacy
Lunacy is this year's FIRST Robotics Competition theme.

For more information Click Here
Our Team
We are a FIRST Robotics Team based in Oklahoma City. Our team number is 2395 and our name is The OK County 4-H Ninja Munkees
4-H
4-H in the United States is a youth organization administered by the Cooperative State Research, Education, and Extension Service (CSREES) of the United States Department of Agriculture (USDA) with the mission of "engaging youth to reach their fullest potential while advancing the field of youth development." The four "H"s stand for Head, Heart, Hands, and Health. The organization serves over 6.5 million members in the United States from ages 5 to 19 in approximately 90,000 clubs. 4-H clubs and related organizations now exist in many other countries as well; the organization and administration varies from country to country.

The goal of 4-H is to develop citizenship, leadership, and life skills of youth through mostly experiential learning programs. Though typically thought of as an agriculturally focused organization as a result of its history, 4-H today focuses on citizenship, healthy living, and science, engineering and technology programs.